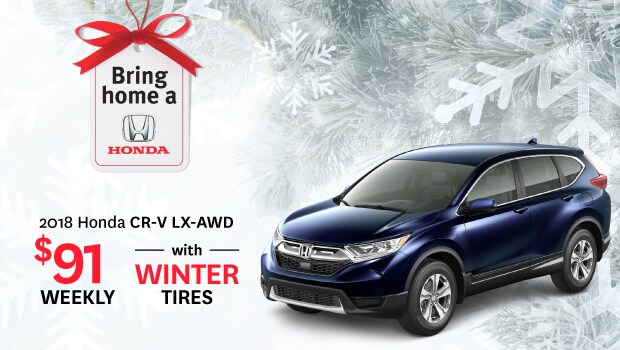 2018 Honda CR-V LX-AWD  
Reliability and versatility define this trailblazer. Equipped with available Lane Departure and Forward Collision Warning, this all in one vehicle will provide you with the utmost safety this winter season. Bring a 2018 Honda CR-V home today and conquer your daily drive.
Lease a winter ready 2018 CR-V LX-AWD, complete with winter tires for only $91 a week.*

2018 Honda Civic Sedan LX
The Honda Civic is Canada's best-selling car and has been since 1998. And with its impressive performance and stunning interior, it's no wonder. With a sophisticated interior built with comfort and safety in mind, the Honda Civic is a joy to drive. Add in all the tech and gadgets the past 20 years of Honda R&D have brought about and the 2018 Civic Sedan is ready to change the way you view the road.
Enjoy lease rates from 0.99% APR for 48 months. Plus get a $750 Civic bonus.**
*Based on a new 2018 CR-V LX AWD stock# N01292, lease price of $32,944 for 60 months, 260 total weekly payments of $91 plus tax at 2.99% APR, on approved credit (OAC). Price includes winter tires mounted and balanced on the factory CR-V rims. Based on 20,000 kms per year (12 cents/km excess charge). Residual value $12,750.78. COB$3490.43. Total Obligation= $37,029.58. $239 due on delivery includes first payment and start ups. Vehicle may not be exactly as shown, prices and payments include all applicable taxes and fees except GST. Offer ends Nov. 30th, 2018. See dealer for details. **Limited time lease offer from Honda Canada Finance Inc. (HCFI), OAC. Lease rate for new in-stock vehicles is 0.99% APR for 48 months. 80,000 kilometre allowance (12 cents/km excess charge applies). No down-payment required. $750 Civic bonus is available on select new and unregistered 2018 Civics (excluding Civic Type R) and is applied to purchase price after taxes. Offer valid until November 30, 2018. 
---